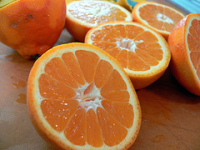 We happened across this engaging story and thought we'd share. It's about how animals recently led farmers to discover a new variety of oranges.
More specifically, it's about how a troop of baboons led one farmer to discover a promising new cultivar of Minneola tangerines, those deep-orange, knobby-ended, delicious tangerines available for just a couple of months each year.
Here's the story: An annual mystery baffled South African fruit farmer Alwyn van der Merwe. In June, when his oranges began ripening, a troop of baboons would descend from the mountains around his farm in the Western Cape and target one particular tree among thousands. The animals would feast until the tree was stripped of all its oranges.
Eventually the farmer decided to inspect that tree and discovered that it was a different variety from the others. Its fruit was sweeter and ripened three weeks earlier. "We couldn't believe it. The one tree was different from the thousands of others, and the baboons knew it," he told the Christian Science Monitor.
Laboratory testing confirmed it was a new variety of Minneola orange. Van der Merwe grafted shoots from the tree onto standard stocks, and they are now regularly cultivated and grown.
Because the new cultivar ripens earlier, it will extend the farmer's growing season.
"It hasn't got a name, and they said we could choose it—maybe we should call it the 'baboon Minneola,' " he says in the CSM's story.
Fascinating! Remember, the longevity matrix suggests one to three servings of fresh fruit every day. (Buy organic whenever practical, and buy fresh-frozen fruit when fresh fruit is limited or looking peaked.)
Tangerines are one delicious way to get a good dose of vitamin C, fiber, and the phytochemical benefits fruits offer. Check for Minneolas and other varieties of tangerines in your local store.